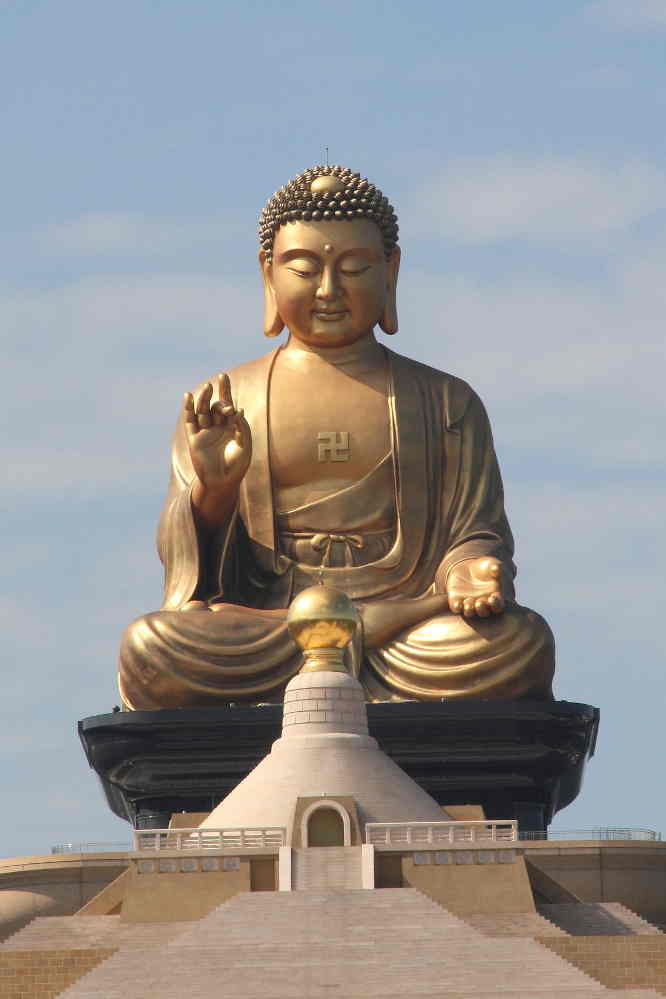 The

Dhammapada

is a collection of sayings of the Buddha in verse form and one of the most widely read and best known Buddhist scriptures.
An example of an English translation widely used by Western Buddhists:
206.

It's good to see Noble Ones.

Happy their company — always.

Through not seeing fools

constantly, constantly

one would be happy.

207. For, living with a fool,

one grieves a long time.

Painful is communion with fools,

as with an enemy —

always.

Happy is communion

with the enlightened,

as with a gathering of kin.

208. So:

the enlightened man —

discerning, learned,

enduring, dutiful, noble,

intelligent, a man of integrity:

follow him

— one of this sort —

as the moon, the path

of the zodiac stars.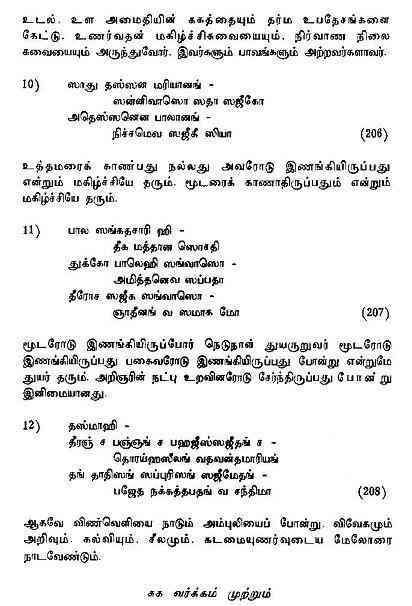 The Latin phonetic transcription of the same excerpt and the first direct translation from
Pali
to Russian and from this Russian translation to English:
206. Sāhu dassanamariyānaṃ, sannivāso sadā sukho;

Adassanena bālānaṃ, niccameva sukhī siyā.

206.

It's good to see the Aryans

and always nice to be with them,

I wish to never seen fools at all.

207. Bālasaṅgatacārī hi, dīghamaddhāna socati;

Dukkho bālehi saṃvāso, amitteneva sabbadā.

Dhīro ca sukhasaṃvāso, ñātīnaṃva samāgamo.

207. Anyone who lives with fools will suffer for a long time.

It hurts to be with fools - it's like being with enemies.

It's nice to live with a smart person - it's like meeting a relative.

208. Tasmā hi-

Dhīrañca paññañca bahussutañca, dhorayhasīlaṃ vatavantamariyaṃ.

Taṃ tādisaṃ sappurisaṃ sumedhaṃ, bhajetha nakkhattapathaṃva candimā.

That's why -

208. A clever, knowledgeable, educated, religious Aryan -

That's such a good and smart person: follow him,

Like the moon walking down the stars' road.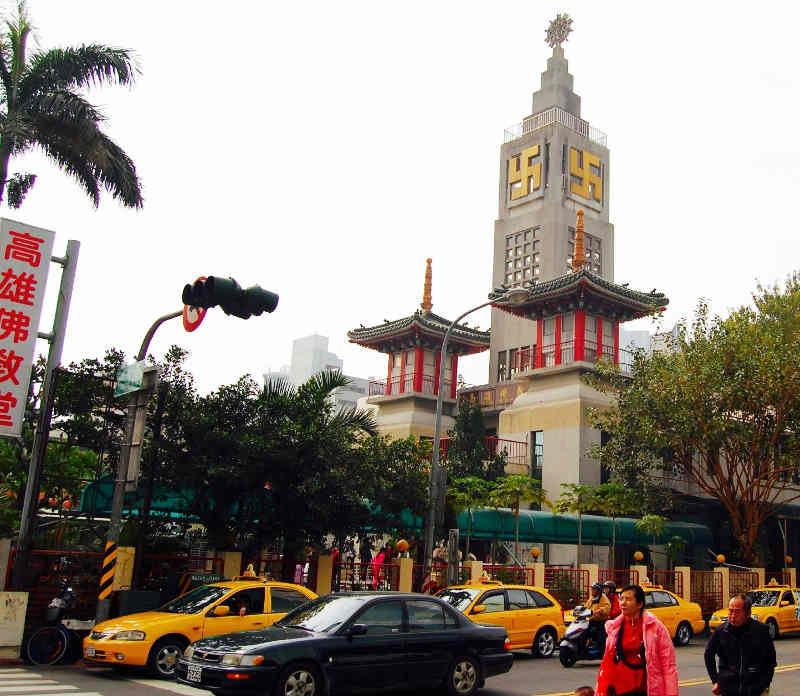 ...
Imperial magazine "
Razvedchik
№168", 127 years ago:
The people of India speak 97 languages and 243 dialects from five different groups. In tribes there are almost all races of the human race. Its original inhabitants belong to a negroid related race, the remnants of which are still found in the Deccan. The majority of the population, as Hindus, Afghans, Tajiks and Beluchs, belong to the Indo-European race. In addition, India is home to almost wild Dravidians, Sinhalese, Malaysians and others; each of them is divided into numerous tribes. According to religion 188000000 of the native population belong to the Brahmins, 50000000 Mohammedan, 8000000 Buddhists, 1.8 million Christians, etc. Aboriginals are mainly divided into castes, the number of which reaches 140000, with 209 of them having more than 100000 people. Due to this diversity in the composition of the population, there is no unanimity among them.
It turns out that there were castes in India more than 140.000. 209 castes had over 100,000 people.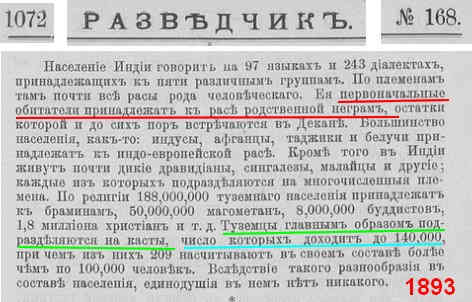 It is also interesting that 127 years ago there were only 8 million Buddhists in India. Probably
Galkovsky was right about Buddhism
was invented less than 200 years ago.
About 15 years after the events described, India was like this: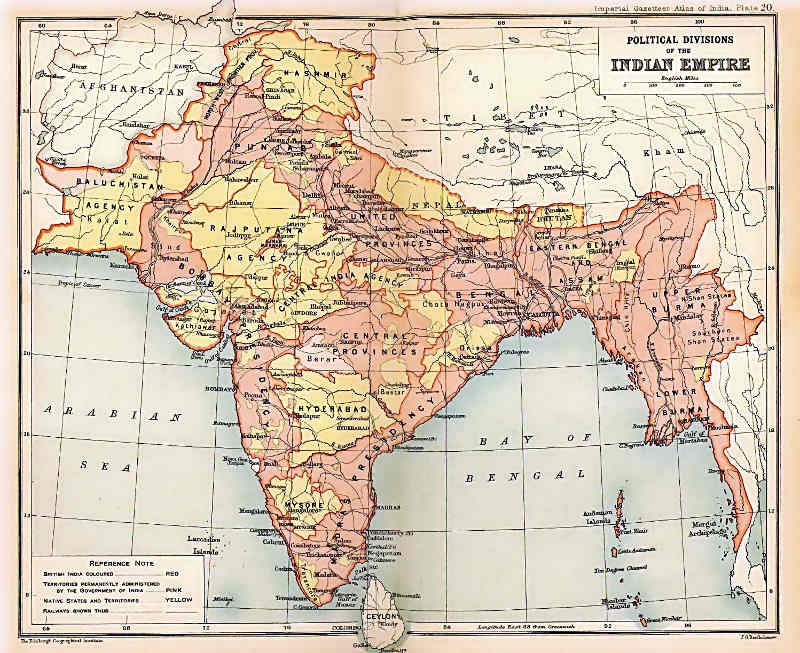 Apparently, the Buddhists were concentrated east of Bengal, in Burma (now Myanmar).
Now, according to official data, there are about 50 million people living there, it is stated that 90% of them are Buddhists.
...
Alois Führer
was a German Indologist who worked for the British Colonial
Archaeological Survey of India
. He was born into a German Catholic family. He studied Roman Catholic theology and Oriental studies at the University of Würzburg. His Sanskrit lecturer,
Julius Jolly
, was associated with the Bombay School of Indology. Probably due to him, he was appointed as a teacher of Sanskrit at the Jesuit St Xavier's Institute in Bombay (now Mumbai). Führer left the Catholic Church and converted to Anglicanism which cost him his job; he returned to Germany, from where he applied for a new job in the museum in Lucknow in India.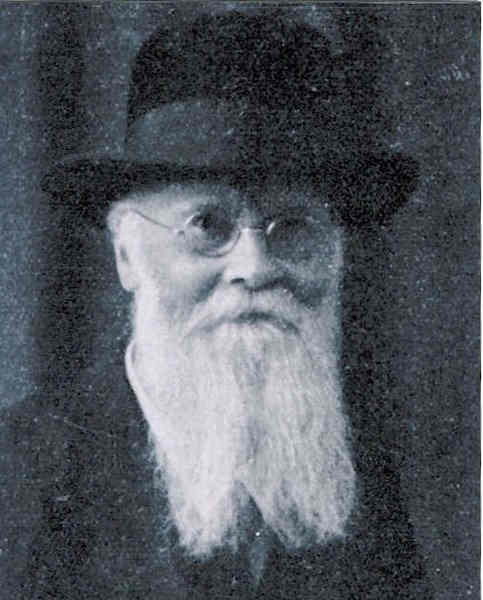 Führer carried out very successful excavations at the

Kankali Tila

site of Mathura between 1889 and 1891 which improved understanding of the history of Jainism and gained him a reputation "as the most successful of the professional excavators". In 1891, Führer started excavations at the Ramnagar site of

Ahichchhatra

.

In 1912, the German Indologist

Heinrich Lüders

identified in the Lucknow Provincial Museum forged inscriptions in Brahmi on artifacts belonging to Führer's excavations at Mathura and Ramnagar, forgeries which he attributed to Führer himself. Some of the forged inscriptions were direct copies of inscriptions on other objects, previously published in Epigraphia Indica.

Führer went to Sanchi during the 1891–1892 season and recovered tens of unpublished donative inscriptions, but these could not have the impact he hoped for. Only a new inscription by King Ashoka, for example, could achieve sufficient impact with public opinion.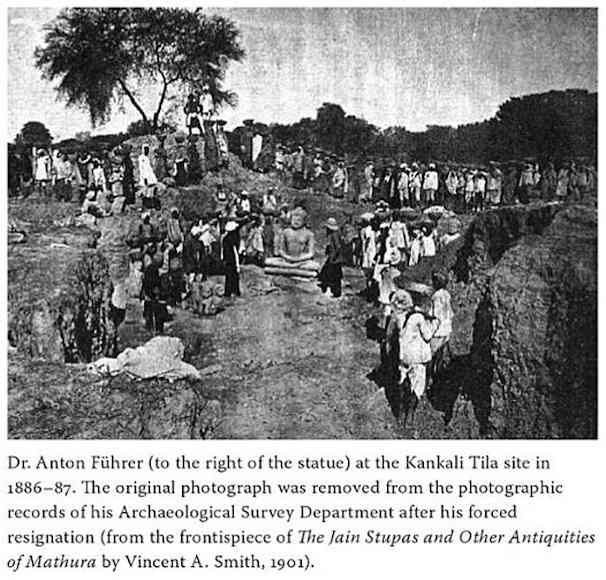 In 1893–1894, Führer was on a survey tour to Burma. In 1894, he published in his Progress Reports of the Epigraphical Section in the Working Season of 1893–94 the revolutionary discovery of three ancient Gupta inscriptions he said he found at Pagan and Tagaung in Burma, which pushed back the epigraphical knowledge of interactions with India by close to six centuries, generating huge acclaim. He elaborated a detailed description of the inscriptions he had supposedly found, without ever producing a drawing or a photographic proof, although he had a draftsman and a photographer with him on the expedition. Large extracts of his report were reproduced in The Indian Antiquary Vol-xxiv (1895). His "discovery" was taken at face value, and its conclusions repeated by many scholarly works such as the Gazeteer of Upper Burma and the Shan States in 1900, before being adopted by popular works as well.

It was only uncovered many years later that the inscriptions were actually inexistent, a fact which was revealed openly by

Charles Duroiselle

in 1921: "This Sanskrit inscription never existed, but was invented in toto by Dr Fuhrer while on a tour in Burma".

The

Nigali Sagar pillar

(also called "Nigliva" pillar) was initially discovered by a Nepalese officer on a hunting expedition in 1893. In March 1895, Führer inspected the Nigali Sagar pillar, one of the pillars of Ashoka, and identified a Brahmi inscription said to be also from the time of Ashoka.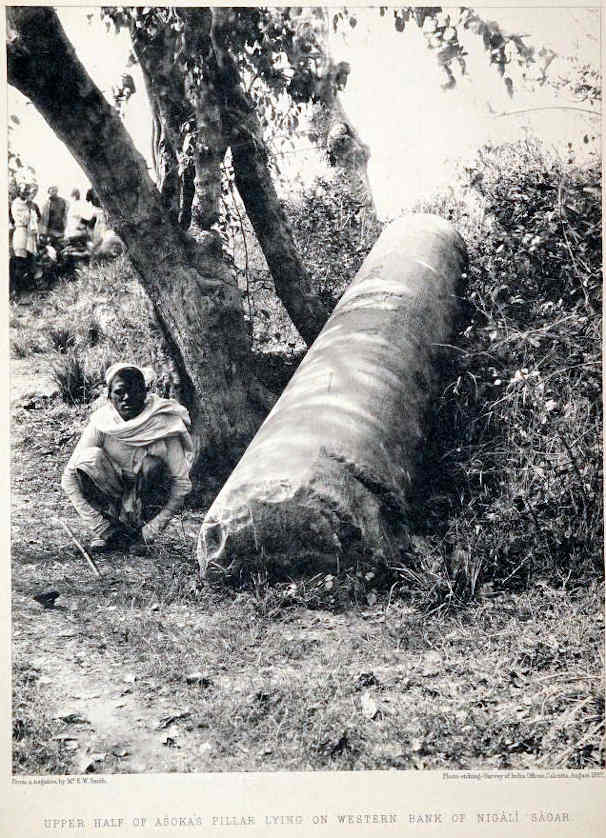 In 1896, accompanied by the local Nepalese governor, General Khadga Shamsher, Führer discovered a major

inscription on a pillar of Ashoka

, an inscription which, together with other evidence, confirmed Lumbini as the birthplace of the Buddha. The pillar itself had been known for sometime already, as it had already been reported by Khadga Shamsher to Vincent Arthur Smith a few year earlier. Führer made his great discovery when he dug the earth around the pillar and reported the discovery of the inscription in a pristine state about one meter under the surface.

The authenticity of the discovery has long been doubted, and was openly disputed in a 2008 book by British writer Charles Allen.

Following the discovery of the pillar, Führer relied on the accounts of ancient Chinese pilgrims to search for Kapilavastu, which he thought had to be in Tilaurakot. Unable to find anything, he started excavating some structures he said were stupas, and was in the process of faking pre-Mauryan inscriptions on bricks, when he was caught in the act by

Vincent Arthur Smith

. The inscriptions were bluntly characterized by Smith as "impudent forgeries".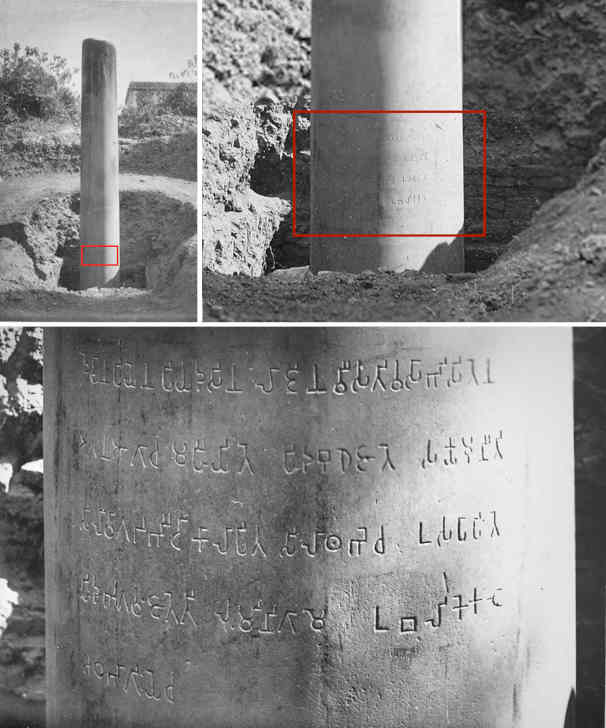 Around the same time, Führer was selling fake relics "authentified" but an inexistent inscription of Upagupta, the preceptor of Ashoka, to Shin U Ma, an important monk in Burma. He wrote to the Burmese monk: "Perhaps you have seen from the papers that I succeeded in discovering the Lumbini grove where Lord Buddha was born", noting that "you have unpacked the sacred relics of our Blessed Lord Buddha which are undoubtedly authentic, and which will prove a blessing to those which worship them faithfully". An "authentic tooth relics of the Buddha" sent by Führer in 1896 turned out to have been carved from a piece of ivory, and another sent in 1897 was that of a horse. The forgery was reported in 1898 to the British North-Western Provinces Government in India by Burmologist and member of the Burma commission Bernard Houghton, and started an enquiry which would lead to Führer's resignation on 16 September 1898.

In January 1898, Führer was again involved in a major discovery, that of the reliquaries at

Piprahwa

.

According to the New York Post (3 May 1896) the Nigliva discovery "seems to carry the origin of Buddhism much further back". The Liverpool Mercury (29 December 1896) reports that the discovery that Lumbini (also called Paderia) was "the actual birthplace of the Buddha ought to bring devout joy to about 627,000,000 people". The Pall Mall Gazette (18 April 1898) related that the Piprahwa discovery "contains no less a relic than the bones of the Buddha himself".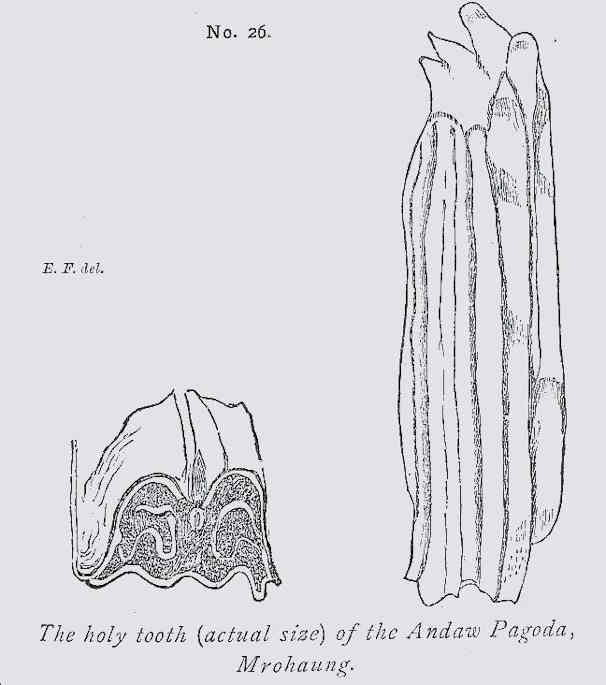 Führer's archaeological career ended in disgrace. Führer came under suspicion from March 1898 following the reported forgeries of the Buddha's relics.

A formal inquiry was launched into his activities, but officials struggled to find a "printable" reason for Führer's dismissal. Führer was officially confronted by Vincent Arthur Smith, who reported the forgeries of the Buddha's relics. Führer was exposed as "a forger and dealer in fake antiquities". Smith also blamed Führer for administrative failures in filing his reports to the Government, and for a false report about his preparations for future publications on his archaeological research: Führer was obliged to admit "that every statement in it [the report] was absolutely false." The false inscriptions supposed to authentify the Buddha relics were not mentioned in the investigations, apparently out of fear of casting doubt on the other epigraphical discoveries made by Führer.Similarly, the false publication of the ancient Burmese inscriptions, were the object of an institutional cover-up, which would not come to light before 1921, with the revelation of their inexistence made by Charles Duroiselle.

In 1901, Vincent Arthur Smith, after retirement, chose to reveal the blunt truth about the Nepalese discoveries and published a stark analysis of Führer's activities, apparently worried that "the reserved language used in previous official documents has been sometimes misinterpreted". In particular, Smith said of Führer's description of the archaeological remains at Nigali Sagar that "every word of it is false", and characterized several of Führer's epigraphic discoveries as "impudent forgeries". However Smith never challenged the authenticity of the Lumbini pillar inscription and the Nigali Sagar inscription discovered by Führer.

Under official instructions from the Government of India, Führer's resignation was accepted and he was relieved of his positions, his papers seized and his offices inspected by Vincent Arthur Smith on 22 September 1898. Führer had written in 1897 a monograph on his discoveries in Nigali Sagar and Lumbini,

Monograph on Buddha Sakyamuni's birth-place in the Nepalese tarai

, which was withdrawn from circulation by the Government.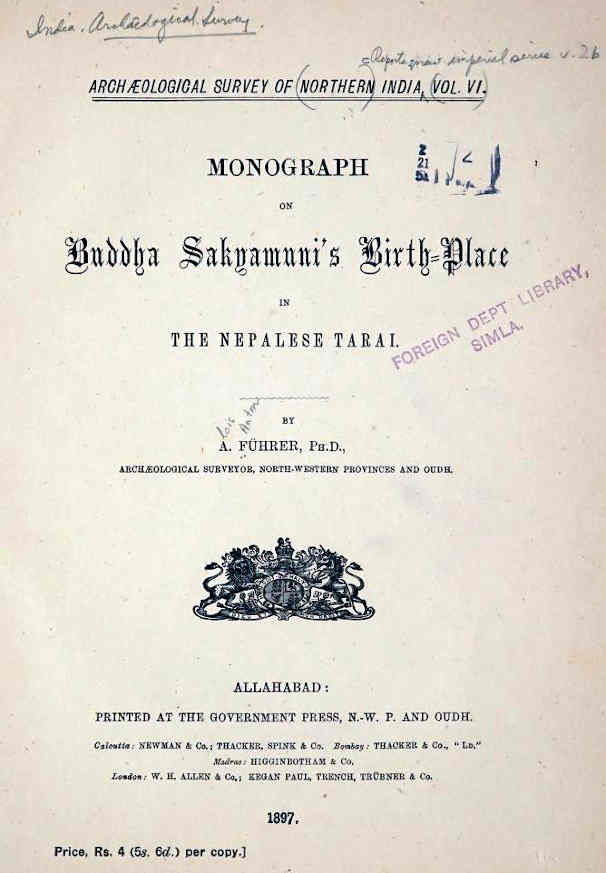 Führer was dismissed and returned to Europe with his family. He died on 5 November 1930 in Binningen, Switzerland.
Führer had an unusual religious career. He served as a Catholic priest, but in 1887 converted to Anglicanism. Following his expulsion from government service in India, Führer made plans to become a Buddhist monk. Quoting the Ceylon Standard, the Journal of the Mahabodhi Society noted: "Much interest has been excited in Buddhist and other circles at the prospect of Dr Führer coming to Ceylon to join the Buddhist priesthood. The Press notices recently made regarding this gentleman have given rise to grave suspicion. We understand that Dr Führer will have an opportunity given him of refuting the charges made against him before he is accepted by the leading Buddhists here as an exponent of the religion of Buddha."These plans seem to have come to nothing because in 1901 Führer re-converted to the Christian Catholic Church of Switzerland and worked as a priest from 1906 to 1930.
Despite the exposure of many forgeries of Führer, for example, the temple complex in
Lumbini
still remains a place of pilgrimage for Buddhists, as the birthplace of Buddha. Despite the fact that the inscription of King Ashoka stating this is known in academic circles as a fake, if we exclude walking pilgrims from India, then Lumbini is now visited by about 100 thousand tourists a year.
In addition, Alois Führer distinguished himself not only by the discovery of the birthplace of the Buddha, but also the birthplace of Krishna: the
Keshava Dev temple
was erected on the site of a burial mound excavated by the Führer, where he
discovered the foundation and the "confirmation inscription"
. True, it is still trying not to remember this significant contribution to the antiquity of Hinduism by Führer, and his contemporaries seized the corresponding photo documents about the authorship of archaeological research in Mathura after his exposure of falsifications in the field of Buddhism.
Related materials:
Mr Houghton and Dr Führer: A Scholarly Vendetta and its Consequences -
https://doi.org/10.5367/sear.2011.0030
"Buddha was born in Nepal" - Dr. Alois Anton Führer says. "He is a big lier" - Indian government says -
http://buddhalivedinsrilanka.blogspot.com/2013/05/buddha-was-born-in-nepal-dr-anton.html
Lumbini On Trial: The Untold Story -
http://www.sljaki.com/related/phelps-lumbini.html
via Александр Гринин, Тайнам Нет