Posts: 138
Joined: Fri Apr 08, 2022 4:37 am
Has thanked: 38 times
Been thanked: 42 times
Look at how the DM prevaricates and obfuscates, to be expected, but nonetheless.
Only one moderated comment in two hours:
ColdPop3, South Shields, United Kingdom, about 2 hours ago

Another sudden heart death.................
If even [former] drug addicts like Shaun Ryder are noticing...
Posts: 386
Joined: Thu Oct 11, 2018 12:57 pm
Has thanked: 12 times
Been thanked: 100 times
https://www.normanfenton.com/post/open- ... s-response
by Axel McFarlane & Mike Baker
Aug 7 2022
The UK Government is stonewalling wrt investigating "vaccine" damage.
Some gems which are addressed by the resultant response
"The Government has commissioned a public inquiry into the COVID-19 pandemic and

has

no plans for a separate inquiry on vaccine safety.

The safety of COVID-19 vaccines is monitored by the Medicines Healthcare and Regulatory products Agency (MHRA)."
Well, that's all right then! But in any case, we all know which course official government inquiries take.
"The benefits of the vaccines in preventing COVID-19 and serious complications associated with COVID-19 continue to far outweigh the risks in the majority of patients......"The MHRA will continue to closely monitor reports of suspected myocarditis and pericarditis with all of the currently authorised COVID-19 vaccines, as it continues to do with any concerns that the Yellow Card Scheme might raise.

Vaccines are the best way to protect people from COVID-19 and have already saved tens of thousands of lives."

**
Respones
No evidence at all is given for this assertion **, which should form the crux of the government's argument in refusing to commission an inquiry into Covid vaccine safety. However, there is an overwhelming body of evidence to the contrary. According to the most recent data [18] from the Office of National Statistics, the number of deaths in England and Wales in Week 29 (up to 22nd July 2022) was 10,978, or 1,680 (18.1%) above the 5-year average. Only 463 deaths had Covid-19 recorded as the underlying cause, meaning that even assuming all the "Covid-19" deaths were actually Covid-19 (and excess) deaths, the weekly death rate was still (1,680 – 463) / (10,978 – 1,680) =13.1% above the 5-year average. This has been going on week after week, month after month throughout this year. The prime suspect for this elevated death toll must be the vaccines (what else could it be?), and the onus is on the manufacturers, the MHRA and the government to prove otherwise.

A vaccine with a negative net benefit in terms of All Cause Mortality cannot be saving "tens of thousands of lives". No evidence is presented to show that the vaccines have saved any lives at all, and all the evidence points in the opposite direction, as demonstrated by the otherwise-inexplicable increase in all-cause mortality over the last year...The government are passing on their regulatory responsibilities to the MHRA and ignoring the fact that they are the ultimate regulators and have to ensure the MHRA have done every aspect of their job to the highest of standards. The government is the regulator of the MHRA yet they are not taking such responsibilities seriously.
Posts: 1555
Joined: Thu Oct 11, 2018 9:04 pm
Location: Liverpool, England
Has thanked: 254 times
Been thanked: 457 times
Did the BBC unwittingly reveal the true proportion of unvaccinated as at least 20%
Interesting video. ONS is using wildly inaccurate data to say how many people are unvaccinated. They say 8%, real figures look to be as high as 25%, with 35% saying they will refuse any future COVID vaccine no matter what.
Posts: 1555
Joined: Thu Oct 11, 2018 9:04 pm
Location: Liverpool, England
Has thanked: 254 times
Been thanked: 457 times
Short video about the importance of knowing how many people are vaccinated.
How do we determine if a vaccine is effective against a deadly virus?
Posts: 1555
Joined: Thu Oct 11, 2018 9:04 pm
Location: Liverpool, England
Has thanked: 254 times
Been thanked: 457 times
Interesting video on bot farming on twitter.
Will Twitter and named MPs survive this video on the use of 30k bots?
It goes with all the
Muppet Show
stuff. I would say lots of MP twitter accounts are just bot driven centrally controlled, no real people tweeting. At the time of the Dominic Cummings travelling across the country during lock-down "scandal" all Labour MPs....
I put this up on twitter to a Labour MP who was calling Tories for everything about ignoring social distancing and was locked out of my account. It's the mob of journalists chasing Dominic Cummings around demanding an explanation why he ignored social distancing rules, where he subsequently resigned. At no point at all were these people ever scared of a deadly virus. And why were they not fined, it was never mentioned as if it never happened, just wiped from the internet.
Posts: 386
Joined: Thu Oct 11, 2018 12:57 pm
Has thanked: 12 times
Been thanked: 100 times
Further data on the extraordinary rise in deaths in England and Wales this year.
Almost all age groups affected, and nobody in the MSM wants to go near it - 10 to 15 per cent above the 2015-9 average since about week 15, after a period of below- average deaths. Now approaching 20 per cent above average in mid-summer.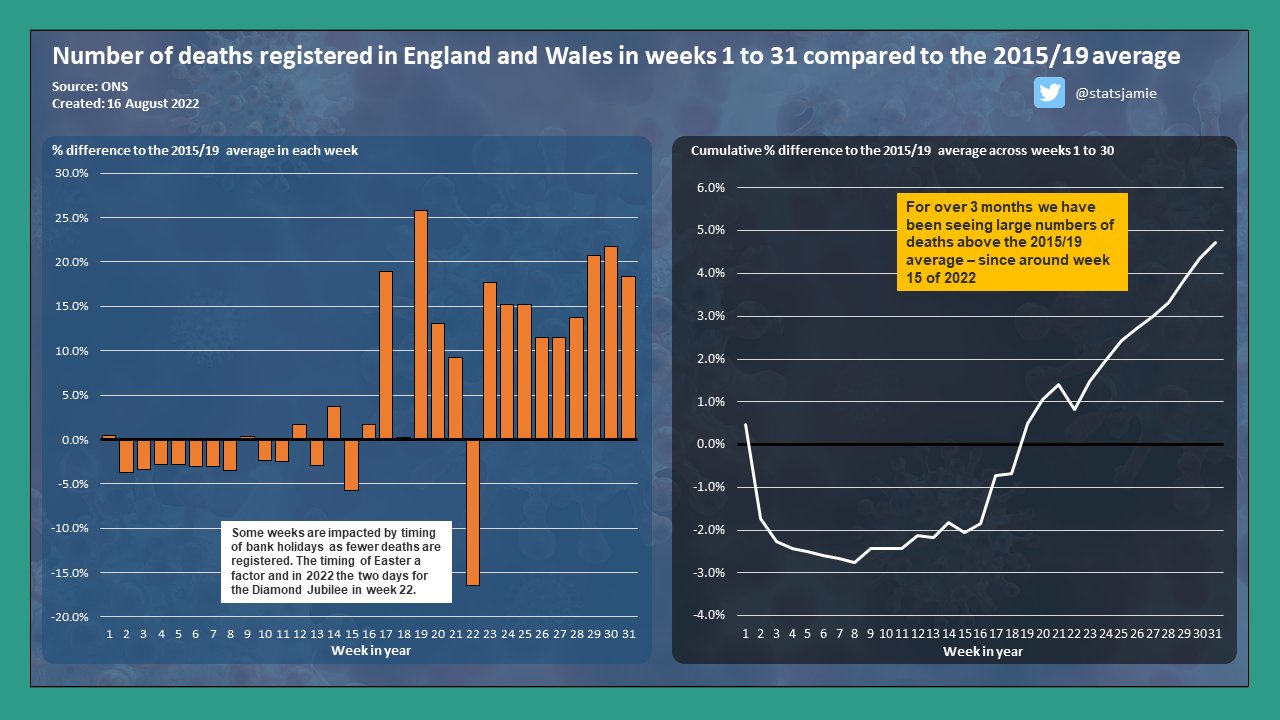 Posts: 1555
Joined: Thu Oct 11, 2018 9:04 pm
Location: Liverpool, England
Has thanked: 254 times
Been thanked: 457 times
Posts: 1555
Joined: Thu Oct 11, 2018 9:04 pm
Location: Liverpool, England
Has thanked: 254 times
Been thanked: 457 times
If you are only going to read one of the three parts above, make it part 3. Where was the COVID PANDEMIC assumptions conceived? At the BBC and its partners, of course.
CONCLUSION
There is no criticism of the principle of vaccination made in this series of articles. To question the COVID jabs is not to question vaccination as a potentially useful public health strategy. There may be questions to be asked about vaccine schedules, but they are not asked here.

The BBC's "Unvaccinated with Professor Hannah Fry" was a disgraceful piece of propagandist junk. The BBC set out to deceive its audience and promote government policy, and that is all that its programme achieved.

The whole premise of the so-called debate, that the majority of the population need to take the jabs but that some refuse to do so, was a lie. The vast majority of those who chose not to take the jab didn't need one in the first place. Unfortunately, the injected were predominantly coerced. Coercion was the basis of the so-called vaccine's widespread adoption.

The programme presented by Prof. Fry was scientifically illiterate. It denied the scientific principle of doubt and omitted all evidence that undermined its propagandist message. There was no debate, no "exploration" and no value in it for anyone except the pharmaceutical corporations and the government.

The BBC had no right to deceive the public by claiming that Prof. Fry "helped bring the UK out of its first lockdown." Nothing could be further from the truth.

It is truly amazing that the UK public continues to pay for propaganda through the BBC license fee. The people face a crushing cost-of-living crisis that, despite attempts to blame everything on the Ukraine conflict, began long before the 2020 pseudopandemic.

That cost-of-living crisis was exacerbated by another NPI, as the government printed money like confetti to fund an unemployed populace—a populace locked up and isolated in their homes.

The majority have already sacrificed many of their freedoms on the altar of the "new normal." When the heating is rationed this winter, we might wonder what else people will forego to afford to watch their tell-lie-vision.
Social distancing didn't apply to thespians I see.